Violet Flame Reiki Course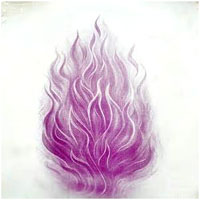 Lineage : Ivy Moore- Dori Mclean- Chitra Grover.
Founder: Ivy Moore
Violet flame reiki , also known as Quan Yin reiki is a newly discovered form of reiki brought to us by Ivy Moore. While Ivy Moore was meditating upon Quan Yin and working on developing better healing skills with reiki, she received 40 symbols. Moore called this reiki ' Violet Flame Reiki 'and has dedicated it to the Lady Quan Yin. Violet flame reiki reintroduces us to our own personal power by connecting us with the loving energy of Qwan Yin and St. Germain.Violet flame reiki and the mantra clears the ego and leaves behind purity of heart. This reiki has a warm and compassionate touch to it as it heals spirit and body. Since the various forms of reiki are all just different aspects of the same energy, Violet flame reiki may be used in conjunction with other reiki traditions and healing methods.
Who can do this: Anyone.
There are four levels of Violet flame reiki and each level has 10 symbols. Once you have received attunements and studied the material, you can successfully send send violet flame reiki to yourself and others and pass attunements as Violet Flame Reiki Master.
You will receive :
Full e-mail support.
Violet flame manual , emailed as pdf format.
Two multilevel Distance attunements, attuning you to all levels
Complete Support
Authentic Lineage and Beautiful, personalised Violet Flame Reiki Master Certificate on completion
Available as e-course
Tuition Fees : US $ 50/-, Rs.2500/-