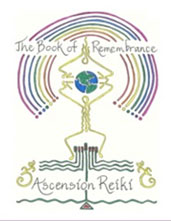 Founder: Leslie and Jayson Suttkus.
The ten degree attunements of Ascension reiki attune the subtle anatomy of our whole being with reiki healing energy. The attunements of ten aspects of our total subtle anatomy opens us to the fullness of reiki for healing, service and personal growth. The ten degree attunements of Ascension reiki opens us up to the tenfold nature of Divine Love and the tenfold nature of our being.
The ten degrees of Ascension reiki
1st degree attunes the Acting body ( The physical body and systems)
2nd degree attunes the Thinking body ( Seven Auras around the body and pranas within the body)
3rd degree attunes the Feeling body( The Chakra system)
4th degree attunes the Karmic body/ Atmic body ( The golden light eternal body, the meridian system)
5th degree attunes the Mind
6th degree attunes the Soul
7th degress attunes the Spirit
8th degree attunes the Will
9th degree attunes the Higher Self
10th degree attunes the Sacred Heart
Who can do this: Anyone
Once you have received the attunements, you will have been attuned as a Ascension reiki master and can successfully give Ascension reiki to yourself and others. you will also be able to pass attunements to others and spread the word about this beautiful form of energy healing. Once you have read and studied the materials completely and received all three multilevel distance attunements from us, you will receive your personalised Ascension reiki master certificate. This certificate is the highest level of acievement for becoming a Ascension reiki Master.
You will receive :
Full e-mail support.
Three Distance multilevel Ascension Reiki attunements, attuning you to all levels
Ascension reiki Manual for levels 1 to 10, pdf format
Authentic lineage and Complete Support
Beautiful, personalized, Certificate of completion.
Also available as e-course
Tuition Fees : US $ 50/-, Rs.2,500/-